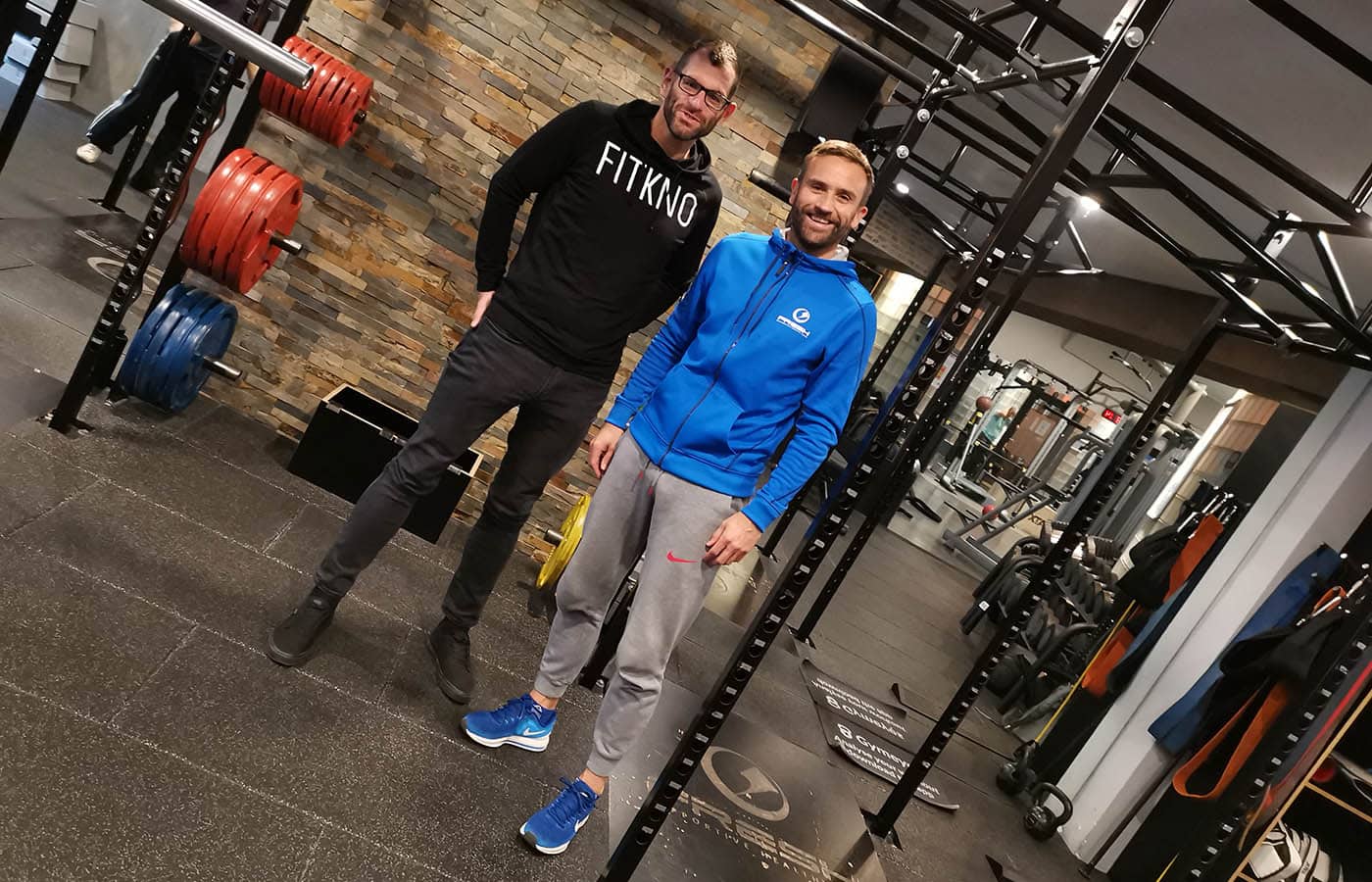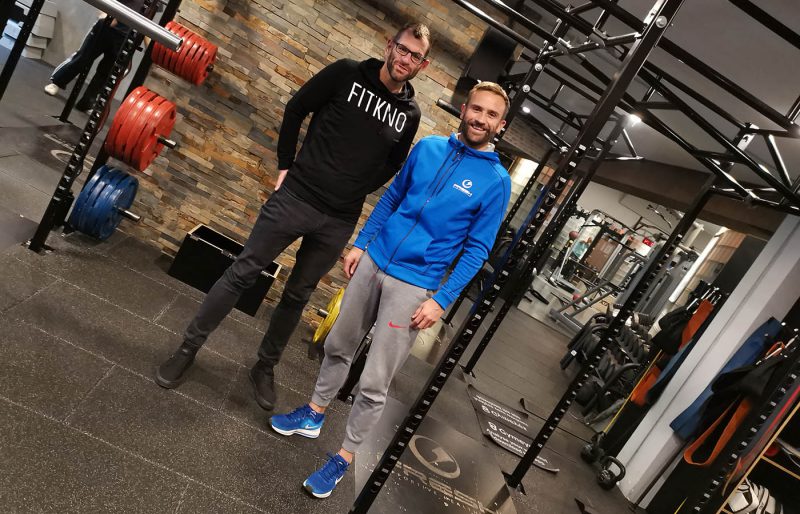 I first visited Fresh Fitness when spending a week in Amsterdam for work, after discovering the gym was part of the same building I was staying in. My first impression was that this place isn't like a lot of other gyms, it's a welcoming place to exercise, where everyone smiles, says hello and the egos often associated with gyms were conspicuously absent. It was the vibe and atmosphere which set Fresh apart for me—sure the equipment was top-notch, but lots of clubs have great kit, not so many have an environment as community spirited as Fresh does. It came as no surprise to read that Fresh Fitness has been recognised as the best fitness club in Amsterdam in the Dutch Fitness Awards in 2018, 2017, 2014 and 2013, as well as being awarded the title of best fitness club in the Netherlands 2018.
After reading a bit about how Fresh came to be, I identified Markus as a perfect candidate to be interviewed for FitKno, we connected on social media and caught up the next time I was in Amsterdam. Relaxed and animated, it's plain to see that Markus loves what he does, he has an infectious enthusiasm as he smiles as says hello to staff and customers alike as we walk through the gym en-route to his office, where I was keen to discover his journey, his outlook on business and fitness, and what drives Markus to keep Fresh at the pinnacle of fitness facilities in Amsterdam.
Remarkably, what serves as probably the most significant waypoint in Markus' life and the catalyst which started his journey as a fitness professional was a serious accident suffered in 2000, one which cast doubt over whether he would even be able to walk again—let alone participate in the sports he loved to do. Markus explained: "I was giving snowboarding lessons in Val Thorens, France when I fell badly and broke my back. I was rushed to hospital with a lot of medics taking care of me before one of the doctors explained that I had broken the L5 vertebrae in my back. I couldn't move my legs for two days due to the swelling. I was horrified at first, but deep down I knew it would be alright. I was lucky—the doctors explained that my break wasn't as serious as it could have been and that I should be able to make a decent recovery and walk again, but there was little chance I'd be able to do sports any more. I didn't spend that long in hospital, doing most of my recovery at home, where a nurse visited most days to check my progress. I did intensive physiotherapy and within a few days I could walk again after the swelling had gone down. After a few weeks, I was even more active and could take part in gentle sporting activities. At first, I was so grateful just to be able to walk—but then I challenged what the doctors had told me about not being able to do physically intensive sports. I'd been a sports guy for as long as I could remember, it was part of who I was, and I would do everything I could to be as active as my body would allow me to be. I searched all over the Netherlands for the best Physiotherapists and Personal Trainers specialising in this type of rehabilitation and worked with a specialist back physiotherapist for a few months. My injury didn't only prevent me from doing sports, but also from working—prior to the accident I'd been a PE Teacher in high school, but naturally I couldn't do that anymore."
Markus continued, discussing his journey with tangible passion and intensity: "The process of my recovery really motivated me to help others. I enjoyed teaching but experiencing first-hand the satisfying process of helping somebody achieve what was once thought to be impossible inspired me to change the course of my career. It took almost nine months to be fit enough to work and play sports again, during which time I trained every day. Itching to get back to work, I took a year's course in rehabilitation, with the focus on being the trainer who takes the patient after the initial Physiotherapist has done their bit. My clients were already able to walk and wanted help being more active in their life. It's such a rewarding job to do, because the progress that's made has a transformative effect on that person's life. It's funny because even though I'd been an active guy all my life, I'd never spent much time in a gym or fitness club, preferring to do outdoors sports such as football, kitesurfing or baseball—but I spent a lot of time in a gym during my recovery, building strength and conditioning my body for more strenuous activity. My new lifestyle inspired and energised me in a way that I initially thought was impossible after my accident."
After qualifying as a Personal Trainer, Markus acquired a broad range of clients, from those undergoing the rehabilitation process to ones suffering less serious ailments such as a bad back caused by slouching over a desk for eight hours a day at work or sitting awkwardly in the car during their commute. His energy and the galvanising experiences he encountered on a daily basis led Markus on a journey from an inexperienced PT to the manager of a highly respected Amsterdam fitness club. Before too long, Markus had the aspiration of opening his own fitness facility.
Fresh Fitness vind je in een historisch gebouw in de Amsterdamse Pijp en is een inspirerende omgeving voor fitness, groepslessen en yoga. Fresh Fitness onderscheidt zich als premium gym door service en klantgerichtheid – niet voor niets is eigenaar Markus trots op de gemiddelde klantbeoordeling van 8.6.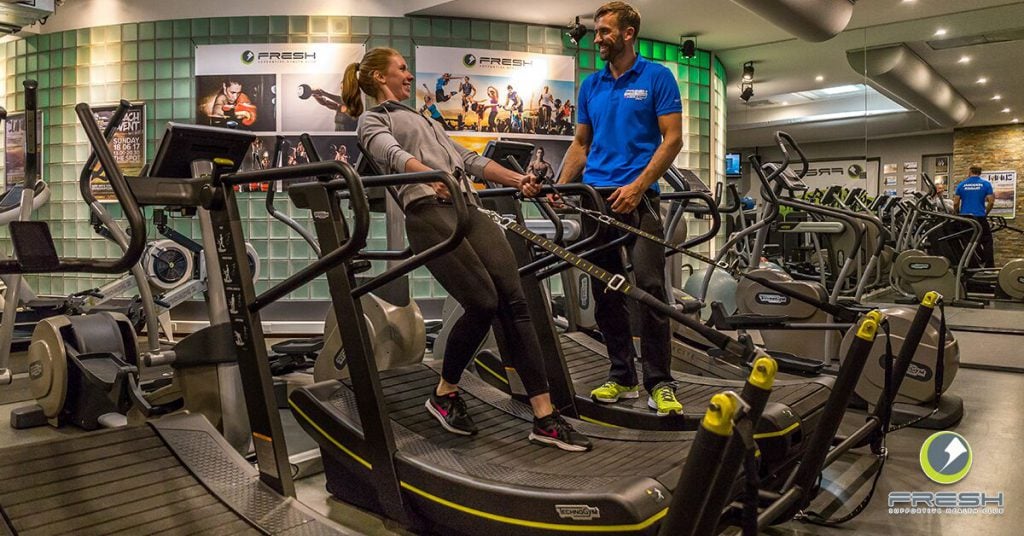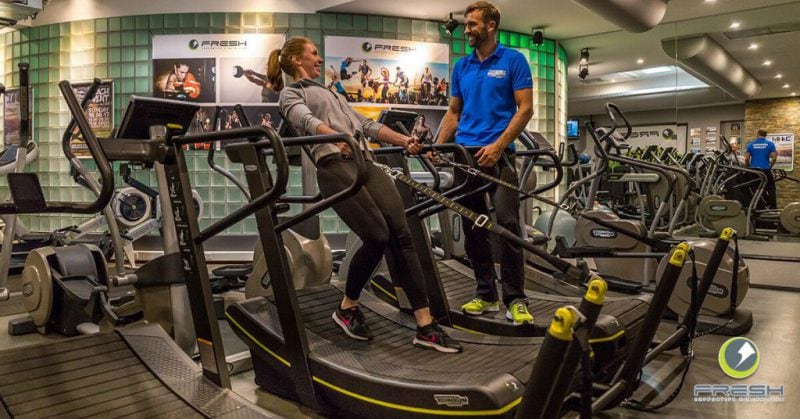 Discussing the early days of Fresh Fitness, Markus said: "I'd been mulling the idea over for some years and in early 2004 myself and two former business partners found a great location here in De Pijp. Signing the rent agreement and taking on bank loans was a daunting process—but the passion we had for Fresh Fitness was so strong, this was something I felt I had to do. We founded on the principles of being a welcoming environment with high quality equipment and great personal training, and quickly developed a reputation in Amsterdam of being an enjoyable place to work out."
"Before that point, I'd spent my entire life either playing sports or working as a Personal Trainer, but now I had to think like a businessman. It wasn't just me anymore, I had a team of staff working for me, all of whom depended on Fresh Fitness being a success to get paid every month. Like all businesses, we needed to identify who our customers would be, rather than trying to be everything for everyone. I never wanted to run one of those fitness clubs which are full of posers, I want my members to feel comfortable working out in Fresh, no matter what their level of fitness is. We created a culture of mutual respect, where a slightly overweight person in their forties or fifties can work out without feeling intimidated or self-conscious. We priced ourselves in the mid-range of the market and targeted customers who are between 35 and 60 years old and can afford to pay around €55 each month for gym membership. We want to attract regular people who take their health and fitness seriously. The emphasis at Fresh, right from day one is that we're a welcoming environment with friendly staff who are always happy to help and offer guidance. We have very high-quality equipment, but that doesn't define Fresh, just because you have the best kit doesn't make you the best gym—it's about the people."
It's clear that Markus didn't just open his gym and hope for the best, nor did he do so with the objective of making a lot of money—he has an intrinsic desire to help people: "Every member gets half an hour personal training each month as part of their membership, with the options for more if they want it. We never wanted to be one of those places where personal training is a rarity and customers have to figure out what they're doing for themselves. We have 12 full time Personal Trainers at Fresh providing 500 hours of personal training each month. As well as the Personal Trainers who are working with clients, there is always an additional member of the team who is available to advise members on an impromptu basis. The Fresh Fitness personal training team are exactly that—one team and not 12 individuals. We have trainers who have different areas of specialisation and they all support each other. We have experts in developing movement and flexibility, good nutrition, studying body composition, working with professional sportsmen and those who are very good at helping clients achieve their dream body for the beach. We offer qualified advice to our members to help them work out smarter and make the best use of their time in the gym."
Despite being in overall charge of both Fresh Fitness facilities, Markus commits to taking ten hours of personal training each week: "I like to do it for so many reasons, the main one being that I really enjoy it. I didn't start what I'm doing now to sit behind a desk all day, I try to spend as much time with my team and working with customers as possible. I still get a kick out of helping people. If one of my members has such a busy life that all they have is just one hour each week to work out—I love to be the person helping them make the most of that time."
As Markus places a high regard on the quality of personal training available at Fresh, I was keen to discover his thoughts on what makes a good Personal Trainer: "I think that's a good question, to which there are many answers. On one hand you might say that a very well-educated Personal Trainer, who has great qualifications and understands sports science and nutrition very well would be the best Personal Trainer—but, what if they aren't so good with people? In another scenario, you might have somebody working as a Personal Trainer who only has the essential qualifications needed to do the job—but are great with their clients. Ultimately, it comes down to how happy their customers are right?"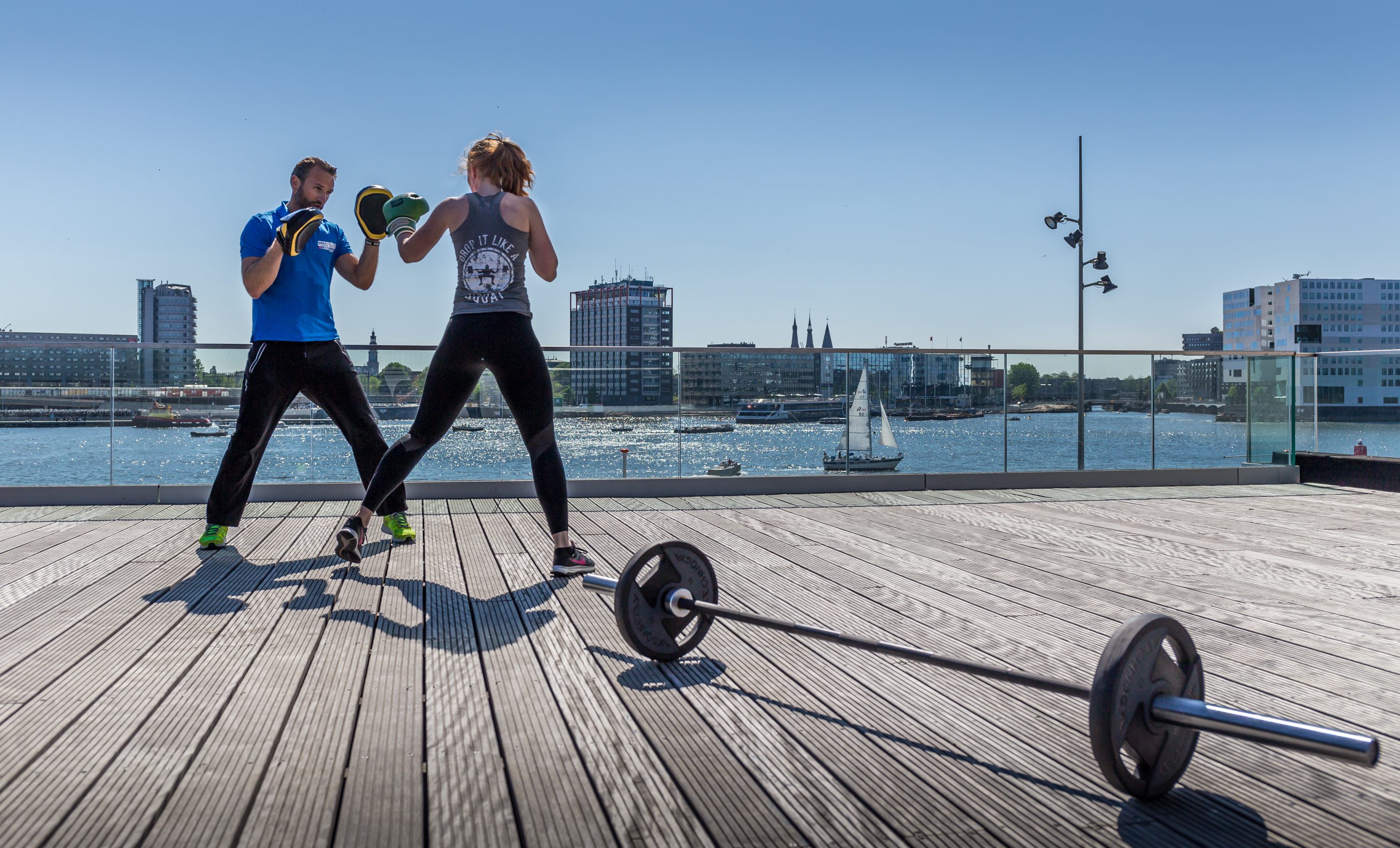 Markus goes on to explain how his members define success: "Clients almost never achieve the goals they originally set themselves, because they were aiming for unrealistic goals and they don't realise how much hard work is involved. Somebody might sign up and say they want to lose 20kg, but after six months they've lost 10kg and are happy with that. It wasn't the additional 20kg that was making them unhappy, but the lack of movement and discomfort felt on a daily basis due to spending eight hours a day behind a desk and leading an inactive life. All of a sudden, they can pick up their kids, run in the park and feel good when they look in the mirror—but nobody remembers the original 20kg goal. That's a great success story, because we've helped to make a positive impact on somebody's life."
"The most important thing for me and everybody at Fresh is that our customers are happy—everything we do leads to that. If they are seeing progress, then they're happy. If they look forward to the time they spend with their Personal Trainer, they are happy. If they enjoy the facilities we have, and the environment is welcoming, they are always happy. In my opinion, the single most important quality a Personal Trainer should have, is to be good with people—be a nice person. Because, if you are a nice person and your clients enjoy spending time with you, then they will value the relationship and have a better chance of sticking with the program. Some Personal Trainers look great but know very little—they think they can just take their body and paste it onto their clients, but maybe their clients don't want to look like that."
"A Personal Trainer needs to be a good listener, whilst many clients have similar goals, to look good on the beach, run a faster 10k or just to get rid of back pain and be able to move more freely—every body is different and needs to be trained in different ways. It's important that Personal Trainers don't just plough on and do what they think their client wants without discussing it with them. They've got to really listen to their client—and if they're not the right PT to make that happen, or there just isn't a connection then there's not shame in passing them on to a different member of the team, who stands a better chance of helping them make a success of their time in the gym."
"Sometimes people aren't aware that making big changes requires a lot of effort, so we need to be realistic about that right from the start. It's quite common to have members who are happy to train more, but don't want to adopt the diet they need to achieve their original goals, so we have to change the goals. I've lost count of the times I've had conversations with clients, discussing their nutrition plan and they say 'oh no, I go out for drinks with the girls every Friday and have a curry on Wednesdays or things like that'—so we have to be realistic. I'd say around 70% of the effort required to lose weight is more about nutrition with just 30% related to training, but before that you need to have the determination. If you have the determination, you can do anything—but that's the hard part. When I look at my own journey back to fitness, I had such a determination to succeed—maybe if I hadn't I wouldn't be doing this today. If I'm training a client and they say that they can't do something, I tell them my story and they see that they can. Very little is impossible if you put your mind to it."
I asked Markus what advice he has for somebody looking to start a career in Personal Training: "Oh you've got to be 100% sure you absolutely want to do it. There are so many people who think it's an easy job, but it's really not. Some people try to make the move from well-paid jobs in sales or marketing into Personal Training because they love working out, but it's so hard. A great Personal Trainer can make really good money, but so few people realise that you have to put a lot of work in and be really good at what you do to get to that stage. You'll start at the bottom and work your way up. A great way to get into Personal Training is to do an internship whilst you're studying. We take interns here at Fresh and we've had some very good ones who have gone on to be full-time members of the team. You've also got to really know your stuff—clients know so much more than they did 10 years ago. Everybody has access to really good information on the internet and understands a lot about exercise and nutrition. Although the technical knowledge is only one part, if you're training to be a PT you really need to get as much experience working with clients as you can. There are many things you can do, offer sessions for free to get experience, work in a fitness club and learn from established PTs. You might think you know it all, but you really don't."
"Sometimes it's easy to get carried away, when you've learnt a lot in a short space of time, worked with a couple of clients and expect lots more to follow—but one question I often ask new Personal Trainers is 'why would somebody want to pay maybe €50 an hour to train with you? What makes you better than other Personal Trainers?' This is a good question, because I'm not going to give them the answer, they need to look within themselves for it—if they embrace this question wholeheartedly it can help them define their style and develop a competitive edge which means clients would rather work with them than anybody else."
The more I talk to Personal Trainers, the more I discover what a fascinating area it is, there's much more to the role than just being fit and hanging out in a gym. It seems that so many people these days either define themselves as a PT or aspire to become one. There's certainly been an explosion in the number of people using gyms and fitness clubs, over the past ten years, I asked Markus how the market has evolved in Amsterdam: "The number of gyms in Amsterdam has doubled since I started out 15 years ago. One of the banks recently did a study, there's been a 70% increase in the number of fitness facilities in Amsterdam in those past six years alone. There are now over 300 gyms, yoga clubs, fitness studios, personal training centres and spin studios—but the crazy thing is they're all doing really well. It's not like with supermarkets where a big one opens up and five small ones close down because they've lost business. The research also showed that 10-12 years ago 16% of Amsterdammers regularly visited a gym, that's now risen to 22%—I don't really understand how a 6% increase in people can support a doubling of the number of facilities in the city, but it seems to be the case. Even the way people work out has changed a lot—ten years ago people were doing more cardio than weights, maybe 60%-40%. Now, it's at least 70% weights and around 30% cardio, because people are better educated about the benefits of resistance training."
Markus explains how the fitness club market has evolved and brought numerous challenges: "Fifteen years ago it was much easier to run a gym—now there is so much competition and customers expect a lot." He puffs out his cheeks and widens his eyes, in an expression of the pressure upon him. "Six years ago, the budget clubs started to pop up across the city, this made things more difficult for us because suddenly we had to justify our prices to members. People expected to pay less because other gyms were charging a lot less, they wanted to know why Fresh charge around €55 per month when they can go to a budget club for €20 or even less. The answer is simple—quality. You can't expect to get the same experience in a fitness club where their whole business model is set up for you not to come! There is one club in Amsterdam with 10,000 members, but only 2,000 actually go—how is that helping people or contributing to the community?"
"Fresh members come an average of 1.2 times per week, obviously some people come more than others, but that's fine because everyone has different schedules and commitments. If a member has gone longer than four weeks without attending, one of the team will contact them and check if we can do anything to help. We really want our customers to get the most out of their membership. We had several members leave us in the past because they said our prices were too high, but the funny thing is a lot of them came back to Fresh and said they should never have left! We will always be about quality, in-depth and qualified personal training, great quality equipment and a friendly environment. I encourage my staff to over-deliver—to be friendly, always say hello to customers and go that extra bit, make the customers realise how valued they are. Now we're not so bothered about the budget clubs, after a bit of a wobble and a few people questioning why we are the way we are, our members are happy with us and wouldn't want to go anywhere else."
My first encounter with Fresh was through Gym Nomad, a third-party booking system that helps people travelling find gyms to work out in. Markus explains how Fresh Fitness has embraced platforms such as Gym Nomad and welcomed non-members into the gym: "The latest trend seems to be to sign up for a pass-based membership which allows pass holders to attend different gyms. We work with brands such as Onefit, ClassPass and Gym Nomad, getting paid by them each time one of their members use our gym. When we started to accept them two years ago we had maybe 20 users a month, but now it's around 1500. I don't really like it and would rather have them as my own members—but we have to embrace the evolution of the market. If I don't accept members of Onefit and the others, then they would go to another gym and we wouldn't get their money. Not all pass-holders are tourists though, the people who come through Onefit are primarily Amsterdammers, which really alters the dynamic of the market. There are some gyms which base their entire business model around pass memberships and have very few members of their own. Although we have accepted this evolution, my own members will always take priority. When we offer classes to pass holders, I limit the spaces open to them to ensure our own members can attend. If there are 20 places for a boxcercise class, it will be 18 Fresh members and just two spaces available for those with passes. The last thing I want is to lose members to another gym or worse still, to one of the pass memberships."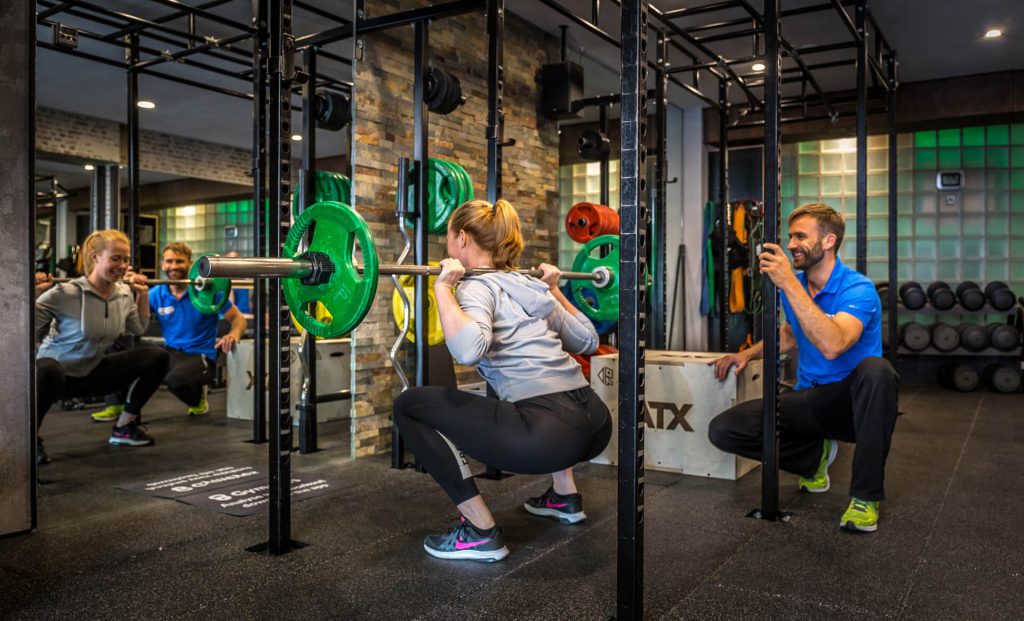 Being incredibly successful in your work can often have a detrimental effect on your personal life, I was keen to discover how Markus balances his time between work and family: "I work a lot, maybe up to 60 hours a week, although the longer I've been doing this the more I realise that work is not the only thing in life but a means to facilitate quality family time. I have two children, Levi who is six and Milan who is ten. I got divorced a few years ago and that made me take control of my work-life balance—Levi and Milan now live with me full-time, so I have to be home at certain times. Far from being a problem, this has helped me create a defined structure to my day rather than just working almost every hour available. I normally open up at 06:00 and work through until 14:00 when I leave to pick the kids up from school. I spend time with them doing fun things and helping with homework until bedtime; after 20:00 I'm back on my laptop and working again until I go to bed. When you're an employee it's easier to separate your home and work life, but when you run a business you need to always be available. I have really great managers looking after the clubs, but with two gyms and 30 staff, my phone rings a lot and there's never a shortage of emails to catch up on. Although I said earlier that I don't really class myself as an entrepreneur, considering there's not a day goes by that I don't think about work and how to keep the quality our members experience as high as it can be—I guess I am quite entrepreneurial."
Markus spends a lot of time working and thinking about work, but he also knows how to cut loose and leave the demands of running a business behind. I asked him how he spends his weekends and vacation time: "My downtime is almost as busy as my work life, a crazy combination of relaxing and being active. When I'm with the kids we always do fun stuff together that they enjoy doing. I love to travel a lot and visit Norway regularly to see my girlfriend Lena, as well as going kite surfing and doing other high-octane sports. Around Amsterdam, I like to see friends, go out for dinner, the normal stuff. I never waste a day sitting around watching TV—I don't have the time and I don't want to anyway."
I asked Markus about some of the highlights of running Fresh Fitness and working as a Personal Trainer: "I loved working with kids when I was a teacher, but I'm really glad I am doing what I do now, it sounds like a cliché but it's so rewarding. I just love being able to help people, no matter what their goals are. We had a guy who was in a wheelchair and undergoing a similar rehabilitation program to what I was on—being able to help him walk and exercise again was a great feeling. Although that's an extreme example, we also have so many cases where parents can't lift their kids or carry suitcases on holiday because of an inactive lifestyle—working with them and helping them regain a freedom of movement is great, they can live their lives to the fullest potential and we helped them do that. We have people who want to lose a lot of weight to improve their health or tone their bodies up to look good on the beach. Making people happy and helping them achieve their goals is one of the best things you can do in life."
Clearly an aspirational man, I asked Markus what motivates him and what his goals for the future are: "When I started out I wanted to have lots of clubs and be well known around Amsterdam, but all of that's changed. Now I'm happy with my two clubs, providing a great experience for my members and being able to live a comfortable life without being too overworked. I'm happy that last year was our best year ever, not just financially, but also in terms of recognition. I'm also very proud of my team—we have a lot of really talented trainers working here who could easily go off and make it on their own, but the great thing is that they really enjoy working with me and believe in everything Fresh stands for. I'm not so bothered about being the biggest and best or making the most money, what matters most to me is the happiness of my customers and staff."
"I am planning to open a yoga and Personal Training studio with my girlfriend Lena in Norway. We will call it 'House of Mindful Movement' rather than Fresh Fitness, because there is a big budget chain of gyms in Denmark and Norway called Fresh and we don't want potential customers to confuse us with them. In Amsterdam, I would love it if one day I could open one more really big gym—maybe 1500m2 with everything in a single facility: gym, studios, lots of different classes, cardio/spin studios. Nothing like this exists in Amsterdam yet, but it would be great to build it—with the same emphasis on quality equipment and personal training advice available whenever our members would need it. This is just a dream though and not that likely to happen because the cost per square metre in Amsterdam is one of the highest in Europe. It would be good though, imagine what a great place that would be!"
I really enjoyed talking with Markus, the insights he gave me were fascinating. He is a very motivated, intelligent and genuinely nice person who speaks with integrity and sincerity. As much as he thinks the idea of building a super gym in Amsterdam is unrealistic and romantic, considering what he's achieved so far in his life—I wouldn't bet against it.