Blog Post Slaap
/
vrijdag, 14 december 2018
/
Published in
Blogs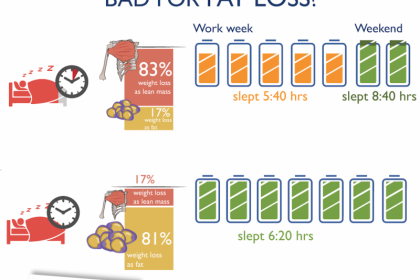 Sleep is so essential for so many things, including actually losing fat (instead of muscle) when you're losing body weight.
Yep, the scale doesn't say everything. Research indicates that losing as little as an hour of sleep can shift your body into burning the muscle instead of burning the fat. Look at the image to see how much of a change it can make [Wang 2018]. Other research tells the same story [Nedeltcheva 2010].
Even sleeping in on the weekends doesn't seem to compensate for the lack of sleep during the week. Key message: Instead of obsessing over the 4 g of protein you missed in your last meal, start obsessing about hitting the pillow in time. Every single day.